Greetings Florida Visitors!
Many of you will be traveling soon to enjoy a week of plane fellowship at Lakeland Linder Regional airport for a popular event called Sun-N-Fun.   I would like to offer some advice as a transplant who has tried to adapt to the unique experience that is flying in Florida.
First off use flight following.  Get on with ATC as soon as you can and use it for your entire flight in. Expect that you might be dropped once you get 50 miles or so north of Lakeland as the traffic will be too tight for ATC to work you in.  From this point on eyes outside and head on a swivel.
Getting Prepared
There are some essential items to bring on the trip.  Bring plenty of sun screen SPF 30 or better and apply it several times throughout the day, or we will know you are a tourist by your bright red color and the glow you give off at night. Wear a hat with a brim, and maybe something to cover the back of your neck.  Bring a rain poncho or pick one up at the AOPA or Jeppesen booth so you can stay dry during the sudden showers. Drink lots of water all day long.  Our temperature and humidity are very high and you will get dehydrated rapidly while outside.
If you don't have an adsb receiver and a tablet of some kind with compatible software this might be the time to get one.  You can build a Stratux for about $120 and link it to an iPad or a Android pad for cheap. It is worth it for weather and traffic.
The Route
The air traffic is going to be a bit more busy than normal so I would like to offer some suggestions for flying towards the event.  Coming from the west I would suggest using a route such as MAI->CTY->OCF->KLAL.  If you are coming from the north I would suggest using a route such as TAY->GNV->OCF->KLAL.  Coming from the north east I might suggest SAV->SSI->GNV->OCF->KLAL I do not recommend flying the east coast of Florida as there tends to be enormous amount of traffic and training along the east coast and ATC will be very busy.   Also there are several restricted areas around Jacksonville which make can make for some extra challenges.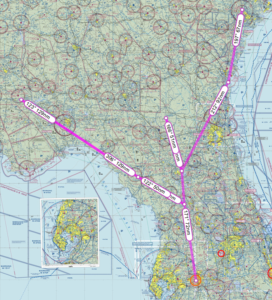 Flying the inland route has a couple of advantages.  First it keeps you out of the Tampa and Orlando class bravo airspace. They are both going to be really busy already and the added stress of passing through either bravo airspace might make the trip more difficult than it needs to be.  Second there are some good places to stop along the way here and take a break, get fuel or spend the night.
According to airnav.com Williston Municipal Airport X60 has the historically lowest price on 100LL fuel in the north central Florida area. and they also have a diner.  If you are looking for an overnight stay, Ocala KOCF, has several hotels in the area and overnight parking is inexpensive.
About the Weather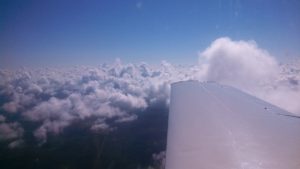 Clear Skies? So the weather forecast is going to say something like clear skies, sunny and warm. Usually that means a scattered layer of cumulus clouds somewhere between 3000 and 5000 feet.  Even if it does not rain we have a lot of moisture in the air and these clouds show up pretty much every day. The ride will be bumpy below 5000 during the day and closer you are to this cloud layer the worse it will be.
Afternoon Storms This wonderful aviation event usually marks the transition in Florida weather to the time when we start getting thunderstorms.  This unique weather phenomenon tends to happen in the in afternoon in Florida. Now don't get too worried as they tend to be localized and intense for a short time and then die out almost as rapidly as they form.  They are not usually a line of storms, more on that in a minute, and instead tend to be isolated rain heads that can easily be avoided by flying around them. When you fly around a Florida storm, give it a wide berth.  Stay well away from the falling rain as there is also a really strong downdraft right outside that rain head.  A good tip I learned:  If you cannot see through the rain, go around it.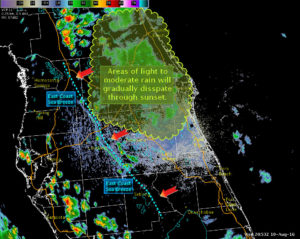 This afternoon thunderstorm weather happens for a couple of reasons.  I am going to possibly oversimplify but here goes.  The wind starts in the morning coming out of the west gently blowing eastward and slowly bringing moist, warm air off the Gulf of Mexico.  Then as the day progresses, sometime around 2pm, the winds shifts and starts coming from the east.  The very hot easterly wind brings even more moisture from the Atlantic and pushes rapidly across the state like a mini storm front, plowing it's way across and creating many small and intense thunderstorms, which die out after the sun sets.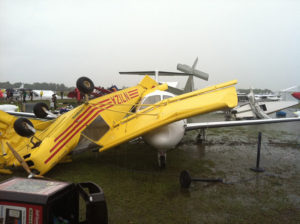 Bring Good Tie-Downs Bring really good tie-downs for your plane, not the cheap stake your dog out on the lawn kind.  These intense, short-lived storms can pick up and throw your plane around.  What a lousy way to lose your airplane to a thunderstorm at Sun-N-Fun.  Many plane owners have lamented not securing their craft properly and having it flipped over onto another plane at this event.  It happens so be prepared and don't end up a statistic.
Fronts When flying into Florida, there are some locations that tend to form large lines of thunderstorms that can be very treacherous.   The most common place is diagonally from Tallahassee , across the state of Georgia, to the edge of South Carolina.  Sometimes it will be a bit south of that point, coming across Cross City to Jacksonville, but they very often form north and work their way south. Make sure you have a good eye on current weather when transitioning this space. Do not attempt to penetrate these storm lines unless you really know what you are doing.  Conditions around these storms will easily rip off your wings.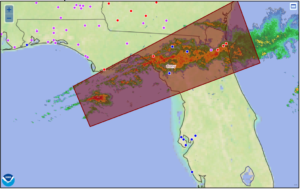 Morning Fog  Sometimes we get a low layer of clouds about two hundred feet above the ground that will cover whole sections of the state.   The good news is that this layer will rise quickly or burn off.  However, this does create low IFR conditions over large parts of the state so be prepared to wait it out somewhere a bit north until it is clear.
The Arrival
Read the NOTAM Flying into the event can be challenging for a first timer, but is relatively safe and rewarding.  I cannot stress enough to read the NOTAM published for this event. You can find the NOTAM here.   Early morning arrivals are better than later as the traffic tends to be less first thing in the morning.  Best advice I can give is know the NOTAM, keep your eyes outside, relax and enjoy the ride.
Here is a great example of the approach and landing at Sun-n-Fun.
Regards
Russ