Hello All
The summer trip has come to an end. We had a good time. It was much shorter than planned but we still did some fun stuff.   Our trip this year took us from Ocala to St. Louis then on to Oshkosh, Petit Jean State park, Memphis, Nashville, Crossville, and Spartanburg.
Link to the whole trip on Skyvector
The first leg of the trip took us from Ocala to West Georgia Regional Airport in Carrolton Georgia for a refuel stop.  Nice little airport.  We borrowed the courtesy car and went into town to grab a quick lunch.  The cheap and quick option was a Subway sandwich shop just a few miles down the road. We returned to the airport, lunch in hand and gabbed with some other pilots in the lounge for a bit while we ate and then climbed back in the plane and flew on to our next destination – St. Louis.
Video of the Landing in Carrollton
After lunch and a refuel we continued on to our first destination KCPS St. Louis Downtown, which is located in Illinois across the river from St. Louis proper.  I must admit it was very cool to look down the runway at the St. Louis Arch just across the river.  The flight was pretty easy we had good weather and a light tailwind so we picked up a few extra knots and cruised at about 135 kts at a70% power setting.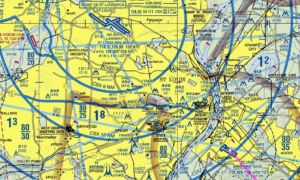 Video of the landing at St. Louis Downtown 
A note about the video.  About 1:10 you will see the engine stumble and notice that it seems to sound different and run differently.  After the landing you will see the fire truck parade.  It seems the approach folks got a little excited.  I requested an expedited landing as the engine starting running rough and I lost the ability to generate some power.  I did not declare an emergency I only requested an expedited landing as I was unsure if I could do a go around if it was needed.  In the end, it was discovered that my right mag had a broken rotor brush.  Seems it was still working sometimes and was throwing the engine timing off.  It all ended safely so no worries.  The repair was simple and was completed by the shop on the field in a few hours.
We called ahead and the FBO, Ideal Aviation, arranged a rental car and a hotel for us at very good rates. For the next four days we stayed at a Drury inn and Suites to the east of the airport in O'Fallen Illinois, which was a bout a 20 minute drive from downtown.  I must say I am a big fan of that hotel chain.  In addition to a complimentary hot breakfast they also offered a complimentary simple dinner and free adult beverages every evening.    We would get up in the morning and have a lovely breakfast and then spend the day as tourists and return for a hot dinner and a cold beer.  From now on I will try to stay at this chain when I travel.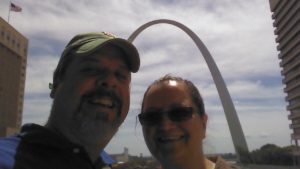 I have to say that visiting the Arch was pretty cool.  It was a very easy drive from our hotel.  We drove across the Mississippi river and then right into downtown.  Finding parking was very efficient and inexpensive.  A short walk got us from our parking to the steps of the courthouse, where the above picture was taken.  Then a quick walk across the street and into the park under the arch allowed for a close up view of this magnificent structure.
Another interesting stop was the Cahokia mounds.  This is the remnant of a native american city that lasted some 300 years.  They build pyramids and had a whole city with walls and even their own version of Stonehenge – but with wooden poles.   Here is a link to the museum website: http://www.cahokiamounds.org/
So this was our first few days in St. Louis.  After this my wife went to her conference, and I continued on to Airventure at oshkosh.  Stay tuned for part two.